Polycarbonate Mirror Sheet for the best in strength and security
Polycarbonate Mirror, PC Mirror, Mirrored Polycarbonate Sheet
As is well-known, polycarbonate mirror is the most impact-resistant substrate. Our polycarbonate (PC) mirror is an ideal choice if you need a mirrored surface with high heat resistance and impact strength. Some of the benefits of our polycarbonate mirror are high impact strength, durability, high heat resistance, crystal-clarity and dimensional stability. We have 0.25 ~ 3.0 mm thickness, 915*1830 mm size, clear silver color available for order with cut to size services.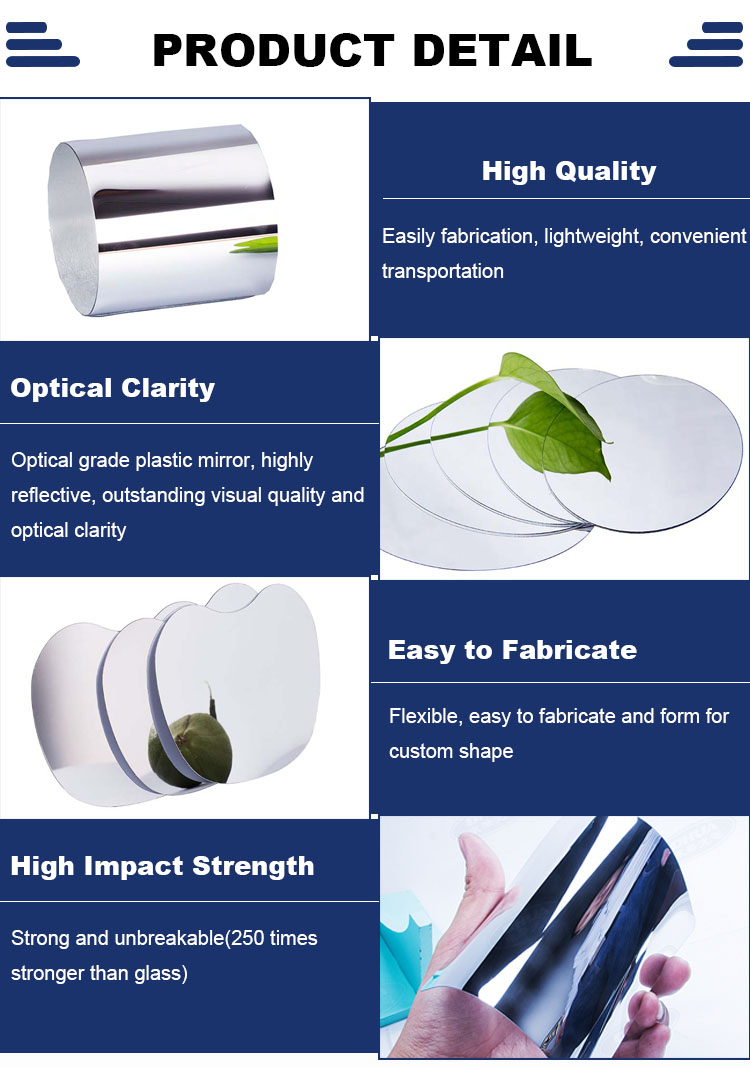 Product Name

Polycarbonate Mirror, PC Mirror, Mirrored Polycarbonate Sheet

Color

Clear silver

Size

36" x 72" (915*1830 mm), custom cut-to-size

Thickness

.0098" to .236" (0.25 - 3.0 mm)

Density

1.20

Masking

Polyfilm

Features

High impact strength, durability, crystal-clarity

MOQ

50 sheets

Packaging

Surface with PE film

Back with paper or double side adhesive

Shipe with wooden pallet or wooden box
Application
Polycarbonate mirror plastic easily outclasses glass for environments requiring high impact materials while maintaining a high level of crystal clarity.
Common Applications Include:
Security & Safety - Inspection mirrors, facial shields, correctional facilities, machine guards, sight glasses

Commercial Building Construction - Fitness center mirrors, observation mirrors, and bathroom mirrors

Point of Purchase Displays & Signage - Endcap displays, cosmetic displays, jewelry enclosures, sunglass racks, and retail signage

Cosmetics & Dentistry - Magnifying mirrors and compact mirrors
Automotive Industry - Interior trim, mirrors, and accessories
RECOMMENDATIONS
Use 1/8" mirror in small installations. 24"x24" or smaller for a great close-up reflection. Typical application is for use in boat, camper, retail display, etc where the viewer is very close to the mirror. This thickness is also great for Table Tops laid on top of the tablecloth (great for events). Use 1/4" mirror in a larger installation over 24"x24".
Security Mirror in store: use 1/4" - at 30-50ft the reflection will be distorted regardless of how flat the mounting is. You may want to test 1 pc for this kind of installation.
Theater and Dance Rooms: use 1/4" - keep in mind that the reflection will NOT be as good as glass - but Plexiglass mirror would be used in this application for safety - not quality of reflection. Reflection will only be as good as the flatness of the installation.
Clubs and Restaurants: use 1/4" for safety and strength.
MOUNTING
If you use screws for mounting, you will get distortion in the reflection. You NEED a Plexiglass Drill Bit for making the hole. Trust us - you will break or crack the plastic with a metal bit. Double Face Tape - easy way to mount. Water-Based Contact Adhesive - a permanent solution to a FLAT surface.
CLEANING
Use Brillianize or Novus products for cleaning and scratch removal. Or soap and water. Do not use Windex or 409. The advantage is that polycarbonate mirror will NOT break and can handle higher temperatures (250F). Good for police stations, psychiatric wards, prisons or other high breakage potential installations. Polycarbonate mirror cannot have scratches removed at all. For more information, please call in. We have been selling mirror for 20 years and help our customers choose the right material for their application.
Why Choose Us
We Are a Professional Manufacturer
DHUA is a quality manufacturer of the best in acrylic (PMMA) materials in China. Our quality philosophy dates back to 2000 and bring us solid reputation. We offers a professional and One-Stop services to customers by finishing the whole production process of making transparent sheet, vacuum plating, cutting, shaping, thermo forming by ourselves. We are flexible. We offer customized product and services to maximize customer satisfication. All our products are available in custom sizes, thickness, colors and shapes ect. We understand the importance of delivery lead times to our customers, our skilled staff, dedicated operations team, simplified internal processes and efficient management help us to ensure that we can fulfil our 3-15 working days fast delivery promises.
Write your message here and send it to us