Color Mirrored Acrylic Plexiglass Sheet
Colored Acrylic Mirror Sheets, Color Mirrored Acrylic Plexiglass Sheet 
Benefiting from being lightweight, impact, shatter-resistant, less expensive and more durable than glass, our acrylic mirror sheets can be used as an alternative to traditional glass mirrors for many applications and industries. Like all acrylics, our acrylic mirror sheets can be easily cut, drilled, formed fabricated and laser etched. Our mirror sheets come in a variety of colors, thicknesses and sizes, and we offer cut-to-size mirror options.
| | |
| --- | --- |
| Product name | Color Mirrored Acrylic Plexiglass Sheet, Colored Acrylic Mirror Sheets |
| Material | Virgin PMMA material |
| Surface Finish | Glossy |
| Color | Amber, gold, rose gold, bronze, blue, dark blue, green, orange, red, silver, yellow and more custom colors |
| Size | 1220*2440 mm, 1220*1830 mm, custom cut-to-size |
| Thickness | 1-6 mm |
| Density | 1.2 g/cm3 |
| Masking | Film or kraft paper |
| Application | Decoration, advertising, display, crafts, cosmetics, security, etc. |
| MOQ | 50 sheets |
| Sample time | 1-3 days |
| Delivery time | 10-20 days after getting deposit |
Dimension Information
Due to manufacturing and cutting tolerances, sheet length and width may vary by +/- 1/4". Thickness tolerances are +/- 10% on acrylic sheets and can vary throughout the sheet. Normally we see variations less than 5%. Please refer to nominal and actual sheet thicknesses below.
0.06" = 1.5 mm
1/8" = 3 mm = 0.118"
3/16" = 4.5 mm = 0.177"
1/4" = 6 mm = 0.236"
Please contact us if you have tighter dimension tolerance requirements than our standard tolerances.
Color Information
Dhua Acrylic Mirror sheets are available in a variety of colors.
Application
Our acrylic mirror sheets are suitable for a wide range of applications. There are many common uses, with the most popular being Point of sale/Point of purchase, retail display, signage, security, cosmetics, marine, and automotive projects, as well as decorative furniture and cabinet making, display cases, POP/retail/store fixtures, decorative and interior design and DIY projects applications. 
Plexiglass mirror is a "reflective" sheet. There are a lot of applications where acrylic mirror (Plexiglass mirror) works very well. It is NOT intended to replace the quality reflection of a glass mirror. That said, you should consider plexiglass mirror in applications where SAFETY is a major concern as plastic mirror is very difficult to break - and when it does, breaks into large pieces that can be handled with bare hands.
While a reflection from either 1/8" or 1/4" mirror looks great from 1-2ft away, at 10-25ft or more, a "fun house" effect happens because the sheet is flexible (whereas glass is very rigid). The quality of the reflection is ENTIRELY dependent on the FLATNESS of the wall you mount to (and the size of the mirror).
Production Process
Dhua Acrylic Mirror Sheet is made with extruded acrylic sheet. Mirrorizing is done by the process of vacuum metallizing with aluminum being the primary metal evaporated.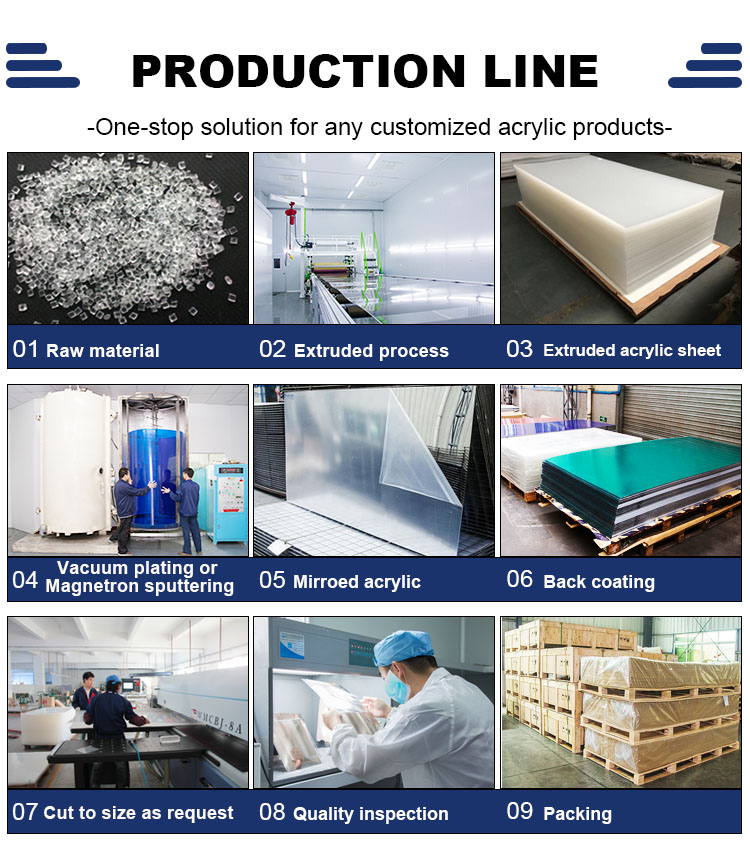 Why Choose Us
We Are a Professional Manufacturer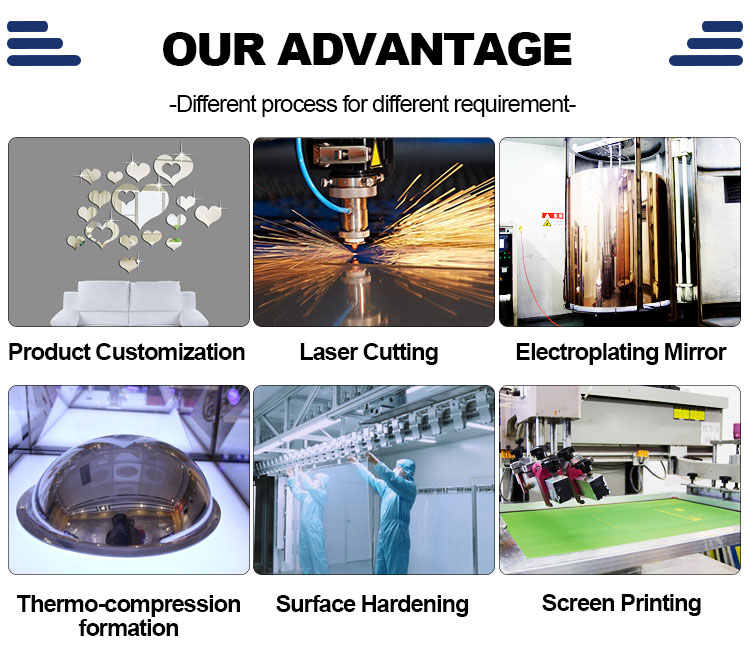 Write your message here and send it to us