Flexible Plastic Double-Sided Concave Convex Mirrors for Educational Toys
Product Description
DHUA provides Double Sided Unbreakable Concave/Convex Plastic Mirrors with protective peel-off film. These high quality plastic mirrors are perfect for student and education applications. A durable resource for exploring symmetry, reflections, and patterns with plastic mirrors. Students can use these unbreakable plastic mirrors to visualize and understand symmetry, reflections, and patterns. Each double sided convex/concave mirror measures 10cm x 10cm.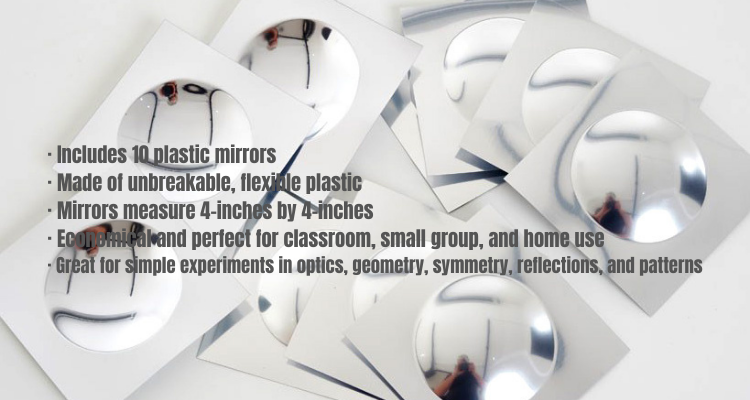 Product Name
Double-Sided Concave/Convex Plastic Mirror

Material

Plastic, PVC

Color

Silver mirror surface face

Size

100mm x 100mm or customized

Thickness

0.5 mm or customized

Feature

Double sided

Included Component

10 plastic mirrors

Application

Education experiment, toys

MOQ

100 packs

Sample time

1-3 days

Delivery time

10-20 days after getting deposit
What you get
1 x mirror pack, including 10 x double sided convex/concave mirrors, each measuring 10cm x 10cm.
How it works
The convex mirror, also known as a fish eye or diverging mirror, has a reflective surface which bulges outwards towards the light source. Because the light hits the surface at various angles and is reflected outwards for a wide view. They are prominently featured in a number of applications, including the passenger-side mirror of cars, the safety mirrors in hospitals, schools, and automated bank teller machines.
The concave, or converging mirror, has its reflective surface bulging inwards. Concave mirrors tend to reflect all light inwards towards a single focal point, and can easily used to focus light. This type of mirror can be found in reflecting telescopes, headlamps, spotlights, and make-up or shaving mirrors.
Teach
* Optics
* Light
* Reflection
Write your message here and send it to us